I thought I would change things up a bit.  Here is a recipe from my childhood. One of my very favorite cookies in the world.  It reminds me of my mama's kitchen – and my mama.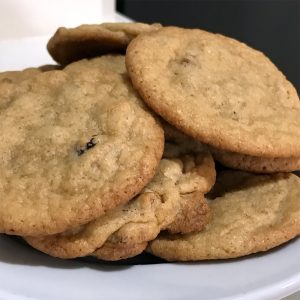 1 cup butter, softened
2 cups brown sugar
2 teaspoons vanilla
2 eggs
2-½ cups all purpose flour
2 tsp baking powder
1 tsp sea salt
1 cup pecans, chopped
Preheat your oven to 350ºF.
Cream together the butter and sugar. Add the vanilla and eggs and mix until combined.
Sift the flour, baking powder and salt into the butter/sugar/egg mixture and mix until just combined. Fold in the pecans evenly.
Drop by teaspoon onto a pan lined with parchment. Bake at 350ºF for 9-10 minutes. You just want to see a little golden brown around the edges at the bottom, and then remove them immediately to cool.