Let's just say I am a walking, talking contradiction.
I feel mentally younger than I am. I forget how old I am sometimes, but Grandson #1 (15) will always remind me. LOL He will say things like "So you are 60. Oh sorry, didn't mean to offend you." Not offended sweet boy. I don't mind saying how old I am because…maybe I look older? And fessing up is just better. I wish I could bear to wear turtlenecks because the turkey waddle is a dead giveaway!
Admitting I have quite the propensity for the profane is stating the obvious if we know one another in real life. Should a grandmother have such an expansive vocabulary? Squipedalianism is inaccurate – I don't use long words or obscure words as much as I string words together. Many of them aren't as eloquent as they are accurate. Those afflicted with sprachgefühl are probably more offended by my misuse of normal, everyday language, spelling and grammar than my ability to "call it as I see it". As I told myself (and my children) when they were younger and repeated what they heard "Chill, they are just words.".
Now that my confession is out of the way, how is one supposed to behave at such an advanced age? I have accomplished a few things at 60 that would have been much better suited for a 30-year-old. One is the fact that when most 60-year-olds are thinking ahead to retirement, I am considering going to work. And I have finally gone hiking in the mountains again. After 48 years LOL.
There are a few things/projects I would like to complete before I head out the door every day to a job. I have a quilt started for Grandson #2. I don't want to push it too far back on my list of things to do and not finish it.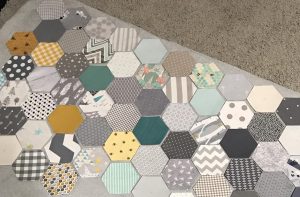 And of course, I would love to do one for our other grandson and each one of our children. I don't know if that will ever happen. I want to do some sewing for some little nieces and nephews. In another life I would have loved to design and make children's clothes. As it is I will just sew them from already made patterns. In fact, this afternoon I am cutting out a few items to start stitching up this week. When my hands go numb from hand-stitching the quilt, I can move to the machine and work on the little clothes. And of course, there is always cookie dough to make and bake and menus to plan.
Then there is The Eye Issue :long sigh: I was diagnosed with glaucoma a while back and I think we are about to start drops. There is a family history so I can't ignore this. Then at my follow-up visit I was told my cataracts (I didn't know I HAD cataracts) are getting worse and before long we will need to talk about surgery. Which makes me want to throw up. I don't wear contacts because I don't want to touch my eyeballs. However, all the things I like to do require at least one working eye so…even if my colorful language indicates a woman (or sailor) of much less advanced age, my eyeballs are betraying me. And I must say, I am a little more than annoyed. See how I am trying to keep this blog as clean as possible? I'm not saying how long that will be possible.
So this has mostly been just a ramble until I was awake enough to get dressed and go record some stories for Grandson #2. I set up a youtube account and since he lives exactly 999.9 miles away now (yes, I mapped it and that is precise door to door), I am recording myself reading books to him. He told me the other day he was going to pretend I was there (yes, when we ended the call, I cried like my heart was breaking) this may be a way for us to enjoy something I cherish – I love reading to him and he loves for me to read to him – in his own time LOL. I understand he watched "The Gingerbread Mouse" read by Ganzy while sitting on the potty doing his business. LOL
Until next time and with warm regards I will leave you with this:
"Not all girls are made of sugar and spice and all things nice. Some are made of witchcraft and wolf and a little bit of vice." ~ Nikita Gill